How much does a spray foam roof cost?
On average, a spray foam roof costs $4 – $8 per square foot. We know this is a wide range. Many variables influence the cost, including the roof size, the warranty length, and the desired R-value. Learn more about them in this article.
How long does a spray foam roof last?
A spray foam roof will be the last roof you ever install on your building. This is because an elastomeric coating protects spray foam.
The coating naturally wears away but can be reapplied once the warranty ends. The spray foam never loses R-value, waterproofing capabilities, adhesion, or other performance capabilities. Here's an article explaining how a spray foam roof lasts indefinitely.
How does it get installed?
Two 55-gallon drums contain the materials that make spray polyurethane foam. The materials are pumped, pressurized, and heated through a hose from a box truck to the installer on the roof. An installer, a hose, and a spray gun are the only things needed to install a spray foam roof.
Here's a video of a spray foam roof being installed from start to finish.
What warranties come with it?
Most spray foam roofs come with a 10-15-20-year warranty. The warranty can be granted through the manufacturer of the products or through the contractor that installed the roof. The thickness of the coating over the foam roof determines the length of the warranty.
Here's an article that answers more questions about spray foam warranties.
What are the materials that make a spray foam roof?
The two materials that make a spray foam roof are:
An isocyanate
A polyol resin
These two materials are mixed at a 1:1 ratio to make spray polyurethane foam.
What problems do spray foam roofs have?
The #1 problem is overspray. With the foam being lightweight, it can easily carry onto nearby cars, windows, etc., by the wind.
Another problem is the knowledge of how to spray foam the correct way. There's chemistry involved in:
applying the right amount of pressure
using the proper speed of foam for ambient temperature
spraying too much or not enough to create a proper slope
Or not recognizing or adjusting due to deck temperature, ambient temperature, etc.
The last problem is that it needs to be at least 50 degrees Fahrenheit for spray foam to adhere and cure correctly.
Here's an article going over a few more problems spray foam roofs have.
What advantages do spray foam roofs have over other roofing systems?
The #1 advantage is that it's fluid-applied, meaning it can go around and encapsulate any shape and size and make it a part of the roofing system. Others in the industry may refer to this as being a "seamless" roofing system.
Spray foam has the highest R-value per inch of thickness of any roofing insulation, around an R-6.5. This will reduce energy costs by keeping more heat/cool from escaping the building.
There are plenty more advantages, which can be learned in this article.
Can spray foam be installed on residential roofs?
Yes, they can, but it's an unusual procedure. The reason is that spray foam doesn't have the "curb appeal" that shingles have.
What's more common is insulating the home's walls with spray foam.
This article will explain the difference between the foam used for interior insulation and the foam used for roofing.
How is a spray foam roof repaired?
If a foam roof gets a crack or puncture, it can be repaired by cutting around the area, drying it out, and then filling the hole with caulk or silicone sealants.
Even if a spray foam roof gets a puncture, it will not leak because of the spray foam's closed-cell properties.
What maintenance is required for a spray foam roof?
Any roofing system should be looked at in the Spring and Fall. Some warranties require at least annual maintenance, and some don't. It's important to understand your warranty and how to keep it active.
But the short story is, get your foam roof looked at twice per year. This will pay off long-term as when the warranty expires and it's time for a recoat, since your roof is in great shape, the recoat will cost as minimal as possible.
Can spray foam be installed over a commercial metal roof?
100%. Metal is one of the best substrates for spray foam because:
It adheres to metal perfectly
All a contractor needs to do is remove the metal in bad condition, clean the roof, and apply foam
Spray foam will 100% cover and seal the hundreds of fasteners and seams
It will eliminate condensation issues
Want to learn more? This article will give you everything you need about spray foam over metal roofing.
How durable is spray foam roofing?
Spray foam has a compression strength of 50-60 PSI. That's equivalent to the pegs that your refrigerator sits on. A sharp object (like heels) can crack a foam roof. Suppose you're expecting lots of foot traffic. In that case, a double broadcast of granules can be embedded into the top coat of the coating for extra strength.
Since spray foam is closed-cell, even if it gets a puncture, blister, crack, etc., it won't leak.
Are there weather restrictions when installing a spray foam roof?
Yes. It needs to be at least 50 degrees Fahrenheit for spray foam to mix, adhere, cure, and perform to its maximum. It's also preferred to spray foam when there isn't much wind. Covering cars, using windscreens, or spraying foam inside a booth are some techniques contractors use to prevent overspray.
Here's an article that explains more about the restrictions of installing a spray foam roof.
How does a spray foam roof handle hail?
A spray foam roof can be damaged by hail. However, since spray foam is usually installed 1.5" thick, a small puncture will not cause a leak. Spray foam is closed-cell, meaning water will sit in a hole and not move down into the roof system or into the building.
Hail damage is easily identified and repaired by cutting around the puncture, drying it out, and filling it with caulk or silicone sealant.
Here's an article with more details about spray foam roofs versus hail.
What R-value does a spray foam roof have?
Spray foam has an approximate R-value of 6.5 per inch of thickness. This is greater than any other type of roofing insulation. Other traditional roofing insulations can achieve the same R-value as a spray foam roof; they will just have to install a thicker material.
This article covers R-value, energy savings, and minimum R-value requirements.
What existing roofs can spray foam be installed over?
A spray foam roof can be installed over an existing:
Metal roof
Single-ply (TPO, EPDM, PVC)
Built-up
Modified Bitumen
One thing to pay attention to is preparation. Some roofs need a coverboard installed first to provide a fully-adhered substrate for spray foam to attach to. Ballasted roofs will need the loose rocks removed first.
Check out this article for more information on how spray foam goes over each roof system.
What is a spray foam recoat or renewal?
Spray foam is 4 layers: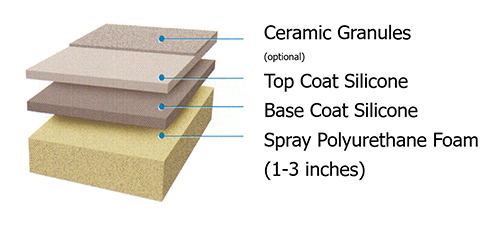 If you get a 20-year warranty, 30 mils of coating (top coat and base coat combined) will be installed over the spray foam to protect it from UV rays. The coating is meant to be sacrificial. The coating will slowly wear away over time. In year 20, approximately 7-8 mils of the original 30 will remain.
At this point, a contractor can make necessary repairs, clean the roof, and install more coating. If 30 mils are installed, a brand-new 20-year warranty would be granted. This is how a spray foam roof is recoated and renewed.
Conclusion
Want to learn more than the basics? Below is an eBook that shows the pros and cons of all commercial roofing systems:
Metal
Single-ply
Roof coating systems
And spray polyurethane foam
Enjoy!