Commercial Roofing Maintenance in Ohio
extend the life of your roof
Number Of Roof's Under An Annual Maintenance Contract
Total Sq. Ft. Of Roof's Under An Annual Maintenance Contract
Commercial Roof Preventative Maintenance and Repair
Whether you're installing a new commercial roof or taking care of an existing system, commercial roof maintenance is important. We know that thinking long term about your commercial roof system can save you hundreds or even thousands of dollars and many people don't even think about setting up a reliable maintenance program.
This page will break down types of roof maintenance, what a maintenance contract will provide and what you can expect from a contractor performing preventative maintenance on your facility.
At West Roofing Systems in Cleveland, Ohio, we take pride in the new roofs we install and the maintenance we provide for our customers and their commercial, industrial and manufacturing buildings. Our M.a.R.S. (Maintenance and Repair Service) Program is available for new and existing roof systems.
Chris West, President of West Roofing Systems, talks about commercial roof maintenance, why it's important, and when the best time to perform them is.
Commercial Roof Preventative Maintenance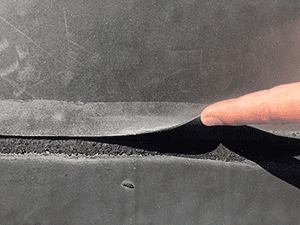 Who should have maintenance on their roof?
Everyone! Regardless of roof type or condition, whether or not West Roofing Systems installed it, we can provide maintenance and repair services to address all of a building owner's roofing needs promptly.
We perform maintenance and repair for the following roof systems:
Metal
Single-Ply TPO
Single-Ply EPDM
Smooth BUR
Gravel BUR
Spray Polyurethane Foam
When should maintenance be performed on a commercial roof?
The National Roofing Contractors Association (NRCA) recommends maintenance and repair be performed at least twice a year. More importantly before and after severe weather seasons such as a winter in the Northern United States. These inspections are to clean the roof system of natural debris, clear all gutters and waterways, and assess vulnerable points in the roof system to ensure that there is no degradation that can leak in the future.
In addition to scheduled maintenance twice a year, it's important to have a contractor inspect and perform needed repairs after severe weather such as high winds, hail, and severe storms. These inspections are to clear any debris, such as metal from HVAC units or other penetrations, and ensure that there is no damage to the roof system, flashings, copings, and other units.
Commercial Roof Maintenance Contracts
Many material manufacturers have warranties that require a building owner to have inspections periodically, and maintenance performed regularly on their roofing systems.  A maintenance contract is an easy way for building owners and managers to ensure their commercial roof remains under warranty and in good condition while staying within their budget.
A maintenance contract between a building owner/manager and contractor to have ongoing maintenance performed over the roof system's lifecycle.
A maintenance contract is a great way to keep your facility in good shape while holding your contractor accountable for the performance of their work.
Read More: My Commercial Roof Is Leaking: What Do I Do?
From the first day, your roof is installed, it begins to age. Your roof's life cycle is influenced by weather, physical damage, rooftop traffic, and neglect. Ongoing maintenance to your roof will yield long-term savings by extending the roof system's life cycle.
Learn More About Roof Maintenance