SUMMARY: If your EPDM roof is in decent condition, you can renew it by installing a silicone roof coating system over the existing membrane. If the EPDM roof is in poor condition, you can remove it and install a spray foam roofing system.
Chances are, if you're reading this blog post, there's something wrong with your EPDM roof.
Our goal in this article is to help you get your roof back to working order in the most cost-effective way possible.
There are two routes you can take, and the current condition of your EPDM roof determines which route is best.
Here's what you'll learn in this article:
What the characteristics of an EPDM roof are
What are the characteristics of an EPDM roof in good/fair condition?
What are the characteristics of an EPDM roof in poor/bad condition?
The steps involved in the renewal of an EPDM roof with silicone roof coatings
The steps involved in the replacement of an EPDM roof with spray polyurethane foam

At the end of the article, there's an opportunity to download a "cheat sheet" which explains the basics about silicone roof coating systems and spray foam roofing systems in the simplest way possible.
Let's get started.



Are you sure you have an EPDM roof? Here are a few characteristics of one:
They are usually black. But there are some white-colored EPDM roofs as well.
The rubber comes in various sheet lengths. Some EPDM's are mechanically-fastened around the perimeter, or fully-adhered to the underlying cover board with adhesive, or the EPDM is held down under loose gravel or rock, which is called a ballasted roof.
Here's a photo of an EPDM roof:
Now that you know you have an EPDM roof, how can you repair it?
The first thing that needs to be determined is the current condition of the roof.
If your EPDM roof is in fair condition, you can renew it by installing a silicone coating system over the field of the roof.
If your EPDM roof is in poor condition, you'll most likely need to remove the entire roof and install a new roofing system.
Here's a photo of an EPDM roof that's been repaired by installing a silicone coating system:
But it's not as simple as just laying down some silicone and calling it a day.
More importantly, is the preparation that happens before silicone is installed. Here's how that goes:

Inspection and Renewal

First, a visual inspection needs to take place to review the overall condition of the EPDM membrane and how it's functioning to determine what course of action needs to take place.
Second, an infrared inspection should be performed to see if there are any saturated areas of insulation under the membrane. After those saturated areas have been removed and replaced, the entire roof surface is power washed clean to remove any contaminants. This is usually incorporated with a wash and rinse primer.
After the roof membrane is washed, an adhesion test should be performed to determine whether a primer is required for the silicone membrane to adhere to the roof membrane surface. Some roof membranes will require an additional primer, but it is best to verify with an adhesion test.
Seam Reinforcement
After the roof has been power washed and/or primed, the seams of the membrane are then reinforced.  There are two common types of seam reinforcement.
Apply a generous base coat of silicone over seams, penetrations, and flashings, then install a polyester reinforced mesh into the wet base coat to full saturation of the mesh, and then an additional silicone coating will be added over the cured base coat.

Instead of polyester reinforced mesh, a self-adhering, reinforced tape can be applied directly to the EPDM, then a top coat of silicone coating is installed over the newly applied tape.
Silicone Application

Once all of the miscellaneous repairs have been performed to the existing roof system, the silicone coating is simply sprayed on or roller applied over the entire surface of the roof. Different manufacturers require different coating thicknesses. In some cases, only a single layer is required, which saves additional dollars in reduced labor costs.

Warranty

After the silicone coating system has been completed, a final inspection will be performed by the contractor that applied the system. A third-party or the manufacturer's representative will verify that all the necessary repairs were performed properly and that the silicone is applied accurately. When the repairs and silicone membrane coating are approved, the final warranty is issued.
Once all the work is performed, you'll end up with a roof like this:
How do you repair an EPDM roof that's in bad condition?
First off, what determines if an EPDM roof is in bad condition? A bad conditioned EPDM roof would have some of these characteristics:
The seams have lost adhesion or are curling
Water is entering your building when it rains
The membrane has excessive wear and tear, such as holes or cracks
The roof has been neglected or not maintained for multiple years

Unfortunately, roofs in this condition will most likely need to be completely removed and a new roofing system will need to be installed.
Being in commercial roofing for 40+ years, a roofing system that we'd recommend is a spray polyurethane foam roof system.
Here's how spray foam would be applied to an EPDM roof
Step 1 – Remove saturated areas

The first step is to identify the saturated areas of the roof by pulling core samples and/or performing an infrared inspection.
It's important to remove these areas because ignoring saturated areas can impact the long-term performance of the roof.
Once those areas are removed, they are replaced with similar materials.

Step 2 – identify the type of EPDM roof

There are three ways an EPDM membrane is attached to the insulation. All three types require a slightly different approach in how the spray foam roof is installed.
Type 1 is a fully-adhered EPDM roof. This means that the EPDM has been applied over the insulation with an adhesive. Since the roof is fully-adhered, spray foam can be applied right over the top of the existing EPDM roof. Removal may be necessary depending on the overall condition of the rubber. In other cases, the existing rubber can remain and a cover board would be installed over EPDM, as long as the underlying roof is in a dry condition.
Type 2 is a mechanically-attached EPDM roof. Mechanically-attached means there are rows of plates and screws at the seams of the membrane which fasten the roof down. Since this type of EPDM roof is not fully-adhered, the roof will be removed or a cover board can be installed, then spray foam and silicone coating can be installed.
Type 3 is a ballasted EPDM roof. Ballasted means that the EPDM membrane is only fastened down at walls and curbs, then a thick layer (minimum 10 lbs./sq. ft.) of rocks and stones are laid over top. For a spray foam roof installation, the rocks need to be removed using an industrial vacuum system. Then either EPDM can be removed or a cover board can be installed over the EPDM, then the spray foam installation can begin.

Step 3 – install the spray foam material

Spray foam is usually installed at an average of 1.5 inches thick. Thickness can increase depending on many variables such as drainage, R-value, building code requirements, etc.
NOTE: Spray polyurethane foam has an average R-value of 6.5 per inch of thickness; the highest R-value per inch of any other type of roofing insulation.

Step 4 – install the protective coating and granules

Unprotected spray foam will degrade by UV rays within 72 hours. That's why every spray foam roof is protected with a type of coating. The coating is usually installed in two separate coats, a base coat, and a topcoat. The combined thickness of the protective coating is what determines the length of the warranty.
For example, a 10-year warranty needs 20 mils of coating. A 20-year warranty needs 30 mils of coating.
Granules are then broadcasted into the topcoat of the coating.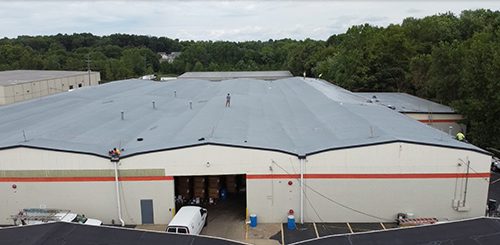 What should you do now?

Your first step is to have a discovery call with a commercial roofing contractor. They will ask you questions, such as:
What's been going on with your roof? (what problems are happening?)
How old is your existing roof system?
What are you expecting with your new roof? (some businesses only want a roof to last through the Winter, others are looking to install a roofing system that will last as long as possible)
Where is the roof located? (some roofing contractors will look up the roof online to help them further understand the roof)

They will schedule a time to come out to your EPDM roof and take a look. Once they do an inspection, they will give you advice on what you should do next.
West Roofing Systems has been in business since 1979. In that time, we've installed silicone roof coatings or spray foam roofs over hundreds of EPDM roofs. Most of them we still service today!
If you'd like to start a conversation with West Roofing Systems, please fill out a request for quote form and we'll contact you as soon as possible.
If you'd like to learn more about silicone roof coatings, or spray foam roofing, please click on one of the links below.