This question has come up a few times through the website and it's finally time to answer.
The quick answer is No. You cannot apply spray foam over a TPO roof.
However, if you install a cover board over TPO, you can apply spray foam to that cover board.
So, I guess the longer answer is Yes. You can apply spray foam over a TPO roof.
At West Roofing Systems, we've installed spray foam roofs over popular single-ply membranes, including TPO, since 1979.
Today we wanted to share with you some of the characteristics of your TPO roof, how you can upgrade your roof by installing spray foam over top, and describe to you how the installing process works.
Let's begin…



First of all, if you're unaware if you have a TPO roof, we wanted to provide a few indicators.
A TPO roof is:
Usually white in color
Comes in sheets that are 10, 12 or 20 feet wide
Once rolled onto a commercial roof, the seams are welded together using a hot-air gun


Here an example of the seams being welded together with a hot-air gun:
Here is an example of a TPO roofing section:

Now that you can determine if you have a TPO roof, let's get into spray foam roofing and how it can be applied over your roof.
Going back to the beginning, you need to install a cover board to apply spray foam to a TPO roof.
What kind of cover board is used when applying spray foam over TPO?
What's typically used is a half inch, high density, wood fiber cover board. (Wow, that's long. If it's cool with you, we'll address this simply as "cover board"? Cool? Cool. Let's move on…)
The reason you need the cover board is due to the way a TPO roof system is secured to the existing assembly or deck. TPO is typically attached along the seams, so the center is loose. Sort of like a square, where the perimeter is attached to the roof, but the area in the middle is not:


Spraying foam directly over TPO could create an unlevel surface where the TPO is not secured to the deck, which could impact how water travels around the roof.
It's never a good idea to apply spray foam to a surface that isn't properly secured.
To make sure spray foam is applied to a level surface, the cover board is a must use.
Does the condition of your TPO roof matter when installing spray foam?

Yes.
If your TPO roof has saturation (or is wet) underneath, then you'll need to remove those areas and replace with similar material.
A roofing contractor has a few options to determine if your roof has saturation:
Core samples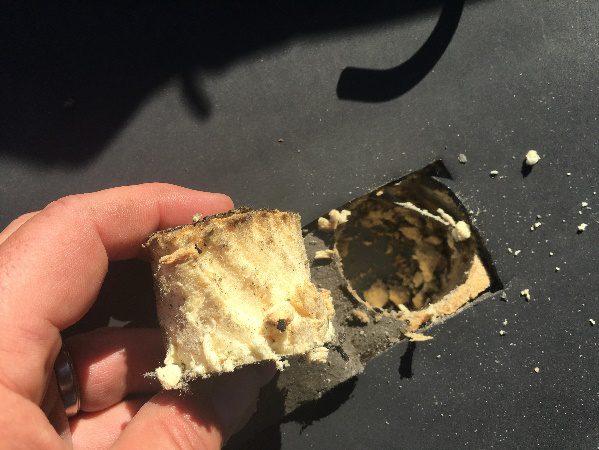 A core sample allows the roof to reveal itself. After a core is pulled, a roofing contractor will know:
approximately how old the roof is
how many layers it has
and if there's any saturation

Where to pull these core samples is determined by common indications of saturation, including darker areas on the roof, where water flows along the roof, if water is designed to run into a parapet wall, and many, many other circumstances.
Every roof is different.
A roofing contractor with years and years of experience will know where to pull core samples in order to get an accurate measure of substrate saturation.
Infrared Survey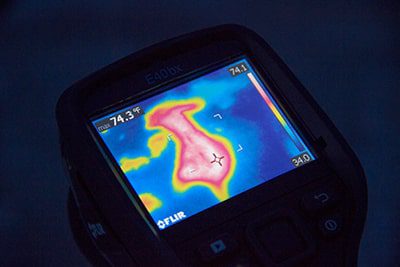 An infrared survey can be performed to determine saturation where the naked eye cannot see.
A roofing contractor will come out after dusk, around the time when the roof is beginning to cool. During this time, the roof will be cool, but the water underneath will still be warm from the day's sun.
The infrared survey will identify those warmer areas, which is an indication that water is present.
A roofing contractor will mark those areas with spray paint to highlight the saturated areas of the roof that need removed.
During the quote phase, a roofing contractor will usually put a separate cost for the removal of saturated areas. It will look something like this:
Cost of spray foam roof = $4 per square foot x 20,000 sq. ft. = $80,000
Cost of removal of saturated areas will add $2/sq. ft. to overall cost.
***This is a very basic quote with estimated pricing***
The 5 steps to install spray foam over your TPO roof

Before we go through the steps, here's a start to finish video of a spray foam installation (sorry it's not TPO though):
Back to a TPO installation:
A roofing contractor will walk the roof, take cores and determine how many layers the roof has. If there's already two layers, then your TPO roof will need to be removed before installing a spray foam roof.
Building codes state that a commercial roof can have a maximum of two layers. For the sake of complexity, let's say your roof only has 1 layer and there's little saturation.

Step 2 – prepare the roof
If you're putting spray foam over TPO, the roof doesn't have to be super clean due to installing a clean cover board over top of the TPO.
A roofing contractor will remove all debris and loose particles from the roof using a broom or with pressurized air.

Step 3 – install cover board
The cover board will be mechanically-fastened to your TPO roof. Mechanically-fastened means using stress plates and screws to keep the cover board in place.
Step 4 – apply spray foam roof
Spray foam will usually be applied with an average of 1.5" in thickness.
Thickness can be increased or decreased depending on the R value the building owner desires.
Spray foam can be 2" in the middle of your roof and 1" at the edges. Every roof is different, but the goal is to provide a fully customized route for water to exit your roof.
Next, a base coat of silicone coating will be sprayed or rolled over the foam the same day the foam was applied. This is to prevent one of the few weaknesses of spray foam; it's inability to resist UV rays. 
The following day, a topcoat of silicone coating with embedded granules will be applied to the roof.

Step 5 – warranty
The building owner has a choice between a manufacturer's warranty or a roofing contractor's warranty.
The duration of the warranty is directly correlated with the thickness of silicone coating that's applied:
10-year warranty = 20 mils of coating
15-year warranty = 25 mils of coating
20-year warranty = 30 mils of coating

Next steps for you TPO enthusiasts out there

Hopefully after today, you know that it's possible to install a spray foam roof over your TPO roof.
If you're serious about learning more about TPO and spray foam roofing, we have some great resources for you:
BLOG: How much does a spray foam roof cost?
BLOG: What problems come with a spray foam roof?
BLOG: What are the 7 Advantages a spray foam roof has?
Interested in learning all of these in the same place? Our Ultimate Guide will be a great resource for you: