Quick answer: The density of spray foam is designed to allow for foot traffic. Spray foam is denser than the commonly used "ISO-Board" in other roof systems. The silicone coating thickness is installed per manufacturer guidelines based on stringent testing.
Perhaps you have a roof leak on a commercial building and are looking at potential roofing systems to install.
Maybe you've heard about some of the advantages of a spray foam and coating roof, and you wonder, "If someone walks on it after it's applied, is there a likelihood that the coating will crack under the weight?"
In this post, we'll explain:
The compression strength of foam and coating
Can a crack or puncture happen on a foam roof?
Will the roof leak with a crack or puncture?
And just so you're aware, West Roofing Systems has been in the spray foam and coating business since 1979. We're constantly getting questions about cost, problems, durability, etc.
This article has been reviewed, edited, and approved for publishing by an internal spray foam roofing expert with more than 30 years of experience.
Let's get started!
What is the compression strength of foam and coating?

The average compression strength of spray polyurethane foam is 40-80 PSI. This is stronger than the commonly used "ISO-Board" and similar in strength to the pegs your refrigerator sits on.
Now, what about the coating?
There are several types of "strength" that coatings are tested for, including:
Elongation
Tensile strength
Hail resistance
Foot traffic testing
Here's a TDS (Technical Data Sheet) that shows the "strength" of Progressive Materials' silicone coating.
All of the top manufacturers have their coatings "FM approved." Factory Mutual (FM) is a well-known testing facility that verifies that coatings work properly every time they are installed correctly.
Can a spray foam roof get a crack or puncture?
Yes.
Sharp objects can cause a crack or puncture. This usually happens under rare events, such as when a nail is left behind, and it's stepped on.
If your roof experiences a lot of foot traffic, a thicker coating application can be installed, or a double broadcast of granules can be embedded into the coating.
Will a spray foam and coating roof leak if it gets a crack?
No. Unless the crack extends all the way to the deck, which is highly unlikely because spray foam is installed at least 1 inch thick.
In 99.9999% of cases, if a foam roof gets a crack, water will sit in that crack and not move. This is because of spray foam's closed-cell structure.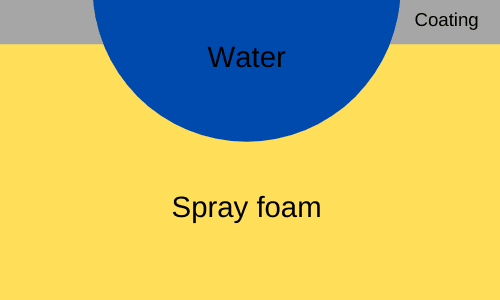 When the roof is maintained (usually in the Spring and Fall), a contractor cuts around the crack, dries the area, inserts coating, and applies silicone sealant and granules.
It's a very simple repair.
In traditional roofing systems that use a thin membrane and ISO-Board, the crack goes through the membrane, and the board is exposed. Water will saturate the board, and the water will eventually get to the deck…and then into your building. Water can travel through ISO-Board because it's open-cell structured.
Conclusion
Hopefully, you learned that if you get a spray foam and coating roof, it can crack, but it will not leak.
If you're worried about foot traffic on a spray foam roofing system, here are a few points to ease your fear:
Spray foam has a compression strength of 40-70 PSI
A double broadcast of granules is a cost-effective way to strengthen walkways
Ready to learn more?
Here are some of our most popular articles about spray foam and coatings: