Do you have a roofing leak on your commercial building? 
If so, this article will show you all the steps that occur in-between contacting us and receiving your quote. 
Here are the steps in case you'd like to skip ahead:
VIDEO: Watch a

4-minute video

explaining the entire process

The discovery call

Roof assessment

Customer meeting

Infrared roof survey

Deliver deficiency report, recommendations, and quote

Sign contract 
At West Roofing Systems, we know that every roof is different. That's why we want to get to know you, your roof's history, and what your goals are. 
We've been developing customized roofing quotes since 1979! 
Here's what you can expect after you request a quote…
1. 4-minute video on roofing quotes
2. The Discovery Call
After you request a quote, one of our technical sales representatives will give you a call. 
Here are some of the questions they will ask:
What kind of roofing problems do you have?

What kind of solution are you looking for?

What many square feet is your roof?

What kind of roofing system do you currently have?

How old is your roof?

How tall is the building?

What is the address of your building? 
During the call, we will look up your building on Google Earth to get a clearer idea of your building. 
As our technical representatives ask these questions, it's okay if you don't know the answers. Our experts are here to help. 
Once our technical representatives feel we are a good fit for each other, they will set an appointment to assess the facility in person.
NOTE: Sometimes certain roofs would not be beneficial for us to work together, such as roofs outside of our service area, or residential roofs. 
3. Roof Assessment
The best way for our technical representative to determine the right roofing solution for you is to perform a roof assessment or field inspection of your facility. This assessment will be conducted by the technical representative and often our sales support team. They will come out during the day to examine your roof first-hand.
These assessments are necessary because our technical representatives are specially trained and have the experience to spot problem areas that could be hard to detect. Roof assessments also help prepare our roofing crews to make sure they have all the equipment they need to perform work on your roof safely.
During that assessment the technical representative will:
Take a core sample – A core sample is a terrific way to see how your roof is constructed. 
Here are some details the core sample will tell a roofing contractor:
How many roofing systems does your current roof have?

Is the insulation wet? 

How wet is the insulation? 

Is only one roofing system wet?
Don't worry, we patch up the area where the core was taken from so it doesn't cause any leaks.
Take measurements – A technical representative will take accurate measurements to determine the size and shape of your building's roof.
Create Field Drawings – We will sketch out what your roof looks like to better create a blueprint and identify problem areas.
Take Photos – This may be surprising, but most of our clients have never seen their roof before. Whether it's too high, too difficult to get to, or they never thought about going up on their roof, our technical representative takes all kinds of photos of the roof to include in their report for you.
4. Customer Meeting
While our technical representative is at your location, they will try to meet with you. This is a crucial meeting that can help us understand your roof and where the problem areas are. 
During this meeting we will talk about:
Your roofing problems

Your project budgets

The solutions you are interested in

What your project timeline looks like

Any special considerations we need to consider (permits, tenants, equipment, etc.)
After the roof assessment and customer meeting, our technical representative takes all that information back to our office and compiles it into a proposal package.
5. Infrared Roof Survey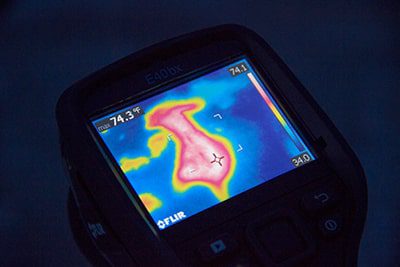 If the technical representative notices that the insulation under the membrane is wet, he may call for an Infrared roof inspection. Infrared inspections give contractors and inspectors the ability to see what is happening under your roof's membrane without having to damage your roof system.
The infrared survey will be scheduled for an upcoming evening for the team to come back, usually around dusk. There needs to be precise conditions for an infrared moisture survey to be successful:
Flat or low-sloped roof

Clean and dry roof surface

Mostly sunny and warm during the day

Little to no wind

Clear night
The technical representative will take images of the roof surface using an infrared camera and use those images to identify problem areas on the roof that are unseen from the surface. If you have saturated insulation, your technical representative will most likely recommend that they remove any saturated material and replace it with new, dry insulation.
6. Create and Deliver a Proposal 
At West Roofing Systems, we have invested in the latest and more accurate software to help prepare quote packages for our customers. Our technical representatives work hard to make sure that our customers don't overpay for services they don't need.
Our quote packages are made up of two components:
Roof Survey
Our custom roof survey report provides the building owner/manager with detailed information about their facility roof. This report contains extensive photos, CAD drawings, roof blueprint, and a detailed write-up of the roof condition.
Our experts provide an analysis of the roof's condition, including integral parts of your facility's roof system, such as the:
Insulation

Membrane

Flashings

Roof Walls and Caps

Penetrations (Skylights, HVAC, Vents)

Gutters
Roof Proposal
In addition to a roof survey report, our team will provide a proposal. In the proposal, our experts will outline what is needed to fix any issues your roof system has, a full scope of work, timeline, and quote. 
7. Signed Contract
When the proposal package is ready for the customer, the technical representative will deliver it by hand or via email. We are always available to walk you through the proposal and explain anything that you may have questions on.
During this time, there may be revisions to the proposal based on the customer's budget or preferences. Our technical representatives are always happy to revise the proposal and update it according to your needs.
When the customer agrees to the proposal for their roofing project, we accept a signed contract a few different ways:
Signed Proposal

Purchase Order

AIA Contract
When the signed document is received, we move forward with getting your project on our schedule…it's that easy.
Start the quoting process today
Over the past 40+ years, West Roofing Systems has installed over 60,000,000 sq. feet of commercial roofing, and they all started with this simple quoting process. 
If you have any further questions about what your commercial roofing system will cost or how to start a project, email us anytime at info@westroofingsystems.com.
And if you're ready for a quote, please fill out this form and we'll contact you ASAP.